CV Writing Tips- Help to Get Hired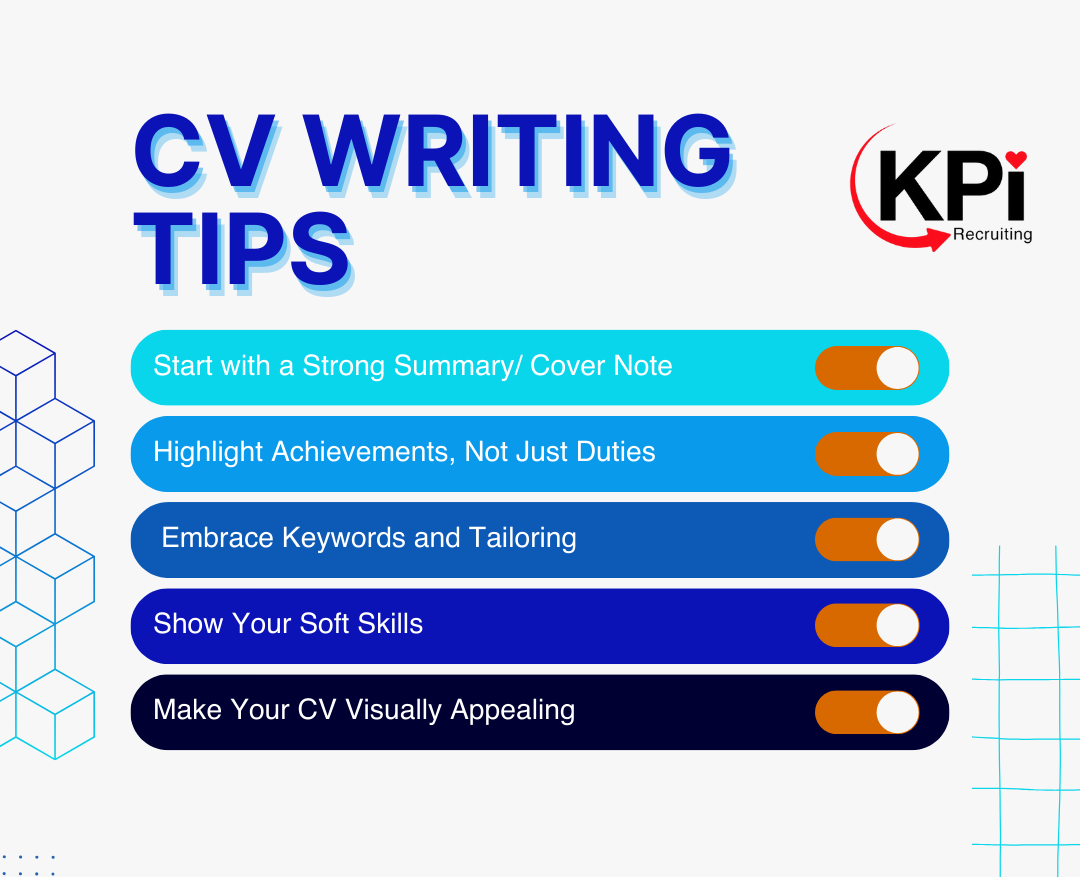 Unlock Your Career Potential with Proven CV Writing Secrets! Discover the art of crafting a winning CV that stands out to employers.

Start with a Strong Summary/ Cover Note
Craft a compelling CV

summary

that highlights your key skills and career goals.

Align

these to

match

the specific job you're applying for.

It should be

industry, company and job role specific.
Highlight Achievements, Not Just Duties

Design your CV as a '

Hybrid Format

'- allowing you to showcase the

skills and accomplishments

you've achieved at the

top of your CV

while also mentioning your chronological

work history in the latter

part.

Focus on

quantifiable accomplishments

that demonstrate your impact.

Illustrate how

you've gone above and beyond in your roles.
Embrace Keywords and Tailoring

Research

industry-specific keywords relevant to the job

you're targeting.

Incorporate these keywords strategically

throughout your CV.

Customise

your CV for each application to

match the job description.
Show Your Soft Skills

Soft skills, such as communication and teamwork, are highly valued.

Use

specific examples to showcase how you've demonstrated these skills.
Make Your CV Visually Appealing

Opt for a clean and professional CV design that's easy to read.

Use

bullet points, headings, and white space

to enhance readability.

Incorporate relevant

visuals

, such as icons or graphs, to illustrate achievements.
For more CV advice, or assistance in your job search, get in touch with a KPI Recruiter today.