Haslington Charity, Neighbours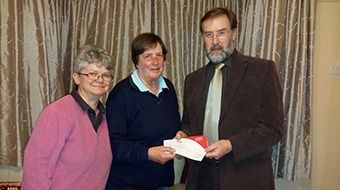 Left to right: Judy McNeill and Lee Allen, the Neighbours founders with Peter Howarth.
The charity is run by a group of Haslington residents. The main activities of Neighbours are helping local people who fall through the net of recognised support systems. Neighbours typically organises an annual outing and an annual party for older people in the village, provides Christmas presents for children from needy local families, and organises an annual tin collection in the village to provide Christmas hampers for needy local families.
There is no external funding, so all the finance for these activities comes from fund-raising events by the charity organisers.