International Dog Day - unleash your paw-tential with a career in recruitment.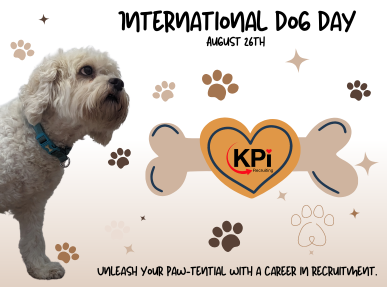 It's International Dog Day, and we're wagging our tails with excitement to introduce you to the furry friends of our talented team. Just like every dog has a unique personality, so do our exceptional employees. They bring their passion, loyalty, and dedication to the table every day, making our recruitment process a true 'walk in the park'. Find out more about their typical day here.
'Phoebe' our MD's dog pictured above, can often been seen walking round the KPI Headquarters in Stoke-on-Trent, where we have an eager & enthusiastic (some would say barking!) team of recruiters sniffing out candidates and chasing down new clients. Here, you can find ultra-cool, modern offices with breakout spaces, pool table, tiki bar, coffee machine, American fridge with free drinks, beer pong table and more.
As well as a great place to work and relax, KPI is THE place to UNLEASH your potential. If you like working hard and playing hard, have a pawsitive outlook and you're resilient enough to bounce back after a ruff day, then a career with one of the UK's fastest-growing recruitment agencies could be just the job. With competitive salaries, benefits, social events and plenty of bone-us, working for KPI is the mutt's nuts.
So, if you're searching for a job that feels like a perfect fit, we've got your back (paws)! Find all our recruitment vacancies here. Or if your just here for the pooches, feast your eyes below on KPI employees fabulous four-legged friends. Happy International Dog Day!