KPI Rail pass RISQS Audit with commendation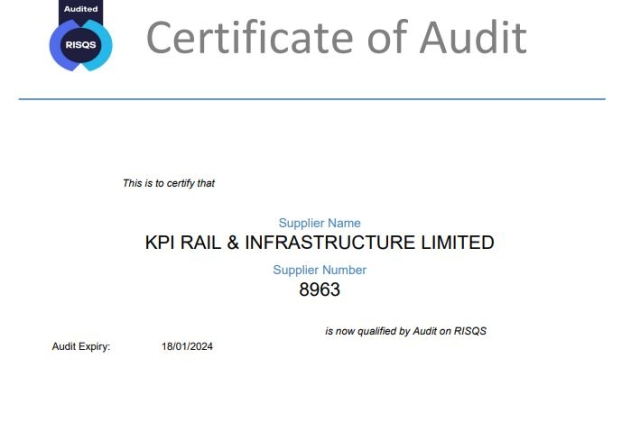 KPI Rail and Infrastructure is delighted to announce they have passed the annual 2-day RISQS audit. The audit, carried out by RISQS approved personnel, enables the RISQS Buyer members to contract KPI as an accredited company with confidence, knowing they comply with the strictest standards.
RISQS provides a framework for to companies to demonstrate they are appropriate suppliers to the rail industry. Buyers of products and services throughout the GB rail industry use RSSB RISQS as its supplier qualification service as it provides an open, fair and transparent way for contractors to be formally recognised as capable providers of products and services.
KPI passed with no observations or corrective actions required, and a commendation for their fatigue management system.
"It's tremendous news," said Director Graham Piggott. "We are always quietly confident during our audits but to have passed with zero corrective actions and observations is an outstanding achievement. And to have our fatigue management system commended is testimony to the importance we attach to Health and Safety."
RISQS accreditations means KPI can continue to as part of the supply chain to major infrastructure companies who supply the likes of Network Rail, Transport for London, Nexus, and HS2.