5-Star Client Reviews for KPI Recruiting Crewe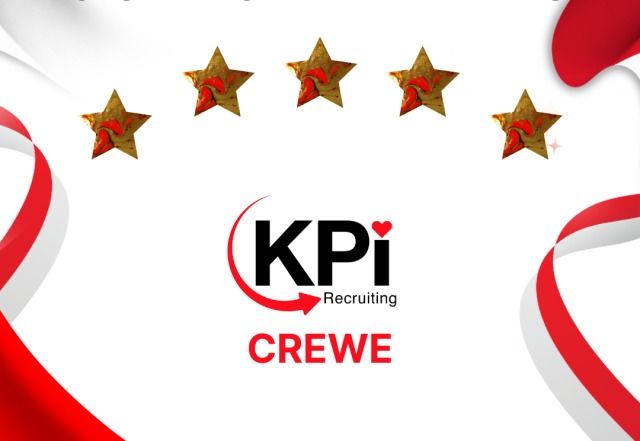 KPI Recruiting in Crewe has continued it's growth after a re-structure which saw Terry McCormick appointed as Head of Industrial for the North and Dan Moore taking the role of Strategic Partnerships Manager. The two have conducted client reviews which resulted in the following feedback:
"I am delighted to share my experience with KPI and express my complete satisfaction with their service. From the moment I engaged with them, I was impressed by their professionalism, expertise, and commitment to delivering outstanding result. The KPI team, led by their exceptional consultant/account manager Kirsty Walley, went above and beyond to ensure that my needs were not only met but exceeded. Their dedication to understanding my requirements and tailoring their services accordingly was truly commendable. Using KPI has been an absolute pleasure. Their attention to detail, prompt responses, and effective communication made the entire experience seamless and efficient. They kept me well-informed throughout the process, providing regular updates and addressing any concerns or queries promptly. Their commitment to delivering high-quality service was evident at every step. I am thoroughly impressed with KPI's expertise and the exceptional level of service they have provided. They have truly exceeded my expectations, and I would wholeheartedly recommend their services to anyone in need of agency staff. Their professionalism, expertise, and personalised approach make them stand out among their competitors. In particular, I would like to highlight the exceptional efforts of Kirsty Walley and Peggy Chan, who played a crucial role in my engagement with KPI. Their dedication, knowledge, and willingness to go the extra mile have made a significant impact on the success of our partnership. Their ability to proactively address challenges and provide innovative solutions has been instrumental in achieving exceptional outcomes. In conclusion, I highly recommend KPI for their outstanding service, expertise, and commitment to client satisfaction. They have proven themselves to be a reliable and trusted partner, and I am confident that anyone who chooses to work with them will be as pleased with the results as I am."
HR Dept. Local Ice Cream Producer
Our relationship with KPI is hugely important to the smooth running of our business, ensuring when we need temporary staff or support with permanent recruitment, the team in Crewe are always there for us. Building a long-term relationship with an agency who understands your business and you can trust is crucial to ensure your needs are met 24/7. THE guys in Crewe are always on the end of the phone or popping onto the site to check that everything is ok. We often request temporary staff with little or no notice and our needs are always met with good updates on timings and names of staff being sent to the site. I would recommend the KPI Crewe for any temporary or permanent recruitment needs you may have.
Mike Pritchard, Operations Director, Fabulosa
We used KPI for the 1st time over a 12-week period during a very busy period for our business. We needed 10 staff immediately which KPI were able to supply, these people needed to be flexible and with certain skills – this was no problem. Over the following two weeks we added a further 35 with the same skills again the quality and reliability was excellent. The KPI team kept in touch on a regular basis with site visits and by phone and were on hand to deal with any issues making our experience with them a good one. KPI will be our 1st port of call when needing temporary staff in future.
Paul Jenkinson, Valentte