Drive to hire the best recruitment talent continues as KPI employs 9 new starters.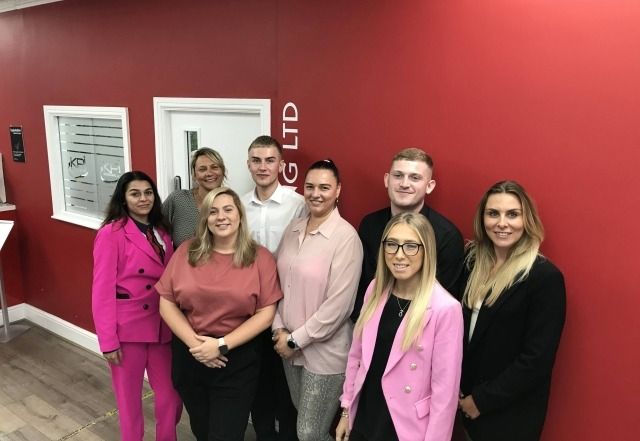 After being named in Recruiter's FAST50 as one of the quickest growing independent recruitment agencies, KPI seeks to continue their expansion with 9 new recruits starting in August.
Completing their induction schedule this week is an array of talent which includes trainees, skilled consultants, and highly experienced recruitment professionals.
KPIs New Trainee Recruitment Consultants are Chloe who'll be working in Telford, Isaac who joins the team in Warrington and Callum who will be based at Headquarters in Stoke. Olympia has started work as Administration Resourcer in KPI's Rail and Infrastructure division in Wigan.
Husam is already making an impact in KPI's Marketing Department as Graphic Designer at HQ in Stoke, where Charlotte has also started as Commercial Team Manager.
Joining KPI as Recruitment Consultants are Sabina and Vanessa. Sabina joins the Commercial team in Warrington team whilst Vanessa joins as driving recruitment consultant at the Telford branch.
Experienced recruitment professionals Michelle and Leanne also join KPI. Michelle, who has worked previously with KPI Directors Andy Wragg and Ryan Jardine, takes the reins as Manager at KPI's Crewe branch. Leanne, who will be responsible for generating new business for KPI, has recruitment experience which includes business development, client services director, recruitment consultant and regional sales manager.
"It's really exciting to recruit some really talented people, from newcomers and those developing their careers to experienced industry experts." said HR Director Amanda Heywood. "We continue to draw the best talent to KPI to further improve our offering to clients and candidates. Our key focus now is to attract the next generation of talent through our trainee programme."
KPI is currently planning a Recruitment Academy and Career Compass to improve and formalise it's recruitment, training and career pathways for new talent.
Gallery