Finalists named for KPI sponsored Sustainability & Environment Category in Staffordshire Chambers Business Awards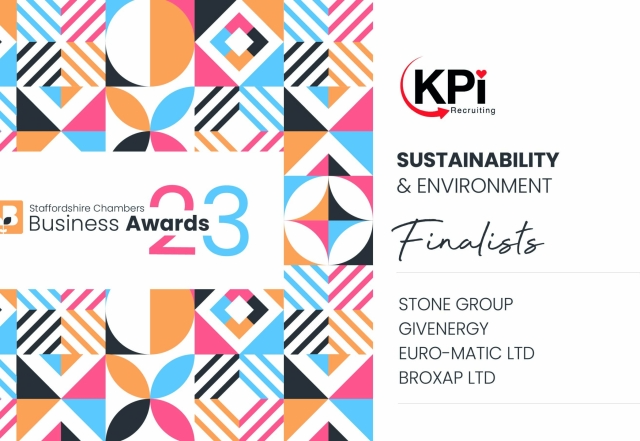 Finalists have been announced for the Sustainability and Environment Category for Staffordshire Chambers of Commerce Business Awards which this year is being sponsored by KPI Recruiting.
The category identifies businesses that have demonstrated a proactive and innovative approach to achieving progress in protecting the environment and lowering their carbon footprint.
Fighting it out for the Sustainability and Environment Award are four finalists:
The four Staffordshire-based finalists have proved their green credentials by displaying exceptional direction, advancement, and commitment to our environment whilst also having a constructive influence on the local business community.
KPI Recruiting Operations Director, Estelle Raybon, said, "We have four outstanding finalists who are going the extra mile to reduce their impact on the planet. It's fantastic to see some genuinely innovative solutions which help in the local community and beyond both ecologically and economically."
KPI Recruiting have been taking steps of their own to reduce their carbon footprint by moving to an all-electric company car fleet, going paperless to reduce waste, recycling PCs and other electrical appliances, and changing to LED lights.
The winner of the Sustainability and Environment Award will be named at the Staffordshire Chambers Business Awards Event, at the Doubletree by Hilton on Festival Way, Stoke-on-Trent, on July 13th. The gala evening will be recognising and celebrating the best of Staffordshire's business achievements and present awards in the following categories:
Small Business of the Year
Medium/Large Business of the Year
Entrepreneur of the Year
Employer of the Year
Student of the Year
Professional Services of the Year
Employee of the Year
Sustainability and Environment Award
Young Employee/Apprentice of the Year
Digital Transformation Award
International Trade Award
Manufacturer of the Year
Online Business of the Year
Most Promising New Start-Up Business
Science, Technology and Innovation Award