KPI Recruiting launches new stand sponsorship with surprise for Crewe Alex fans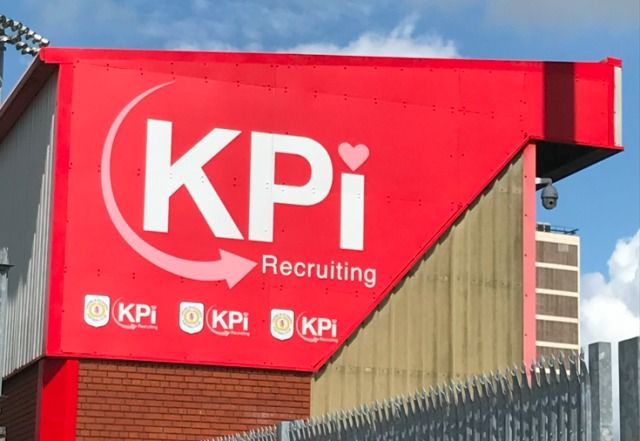 Crewe Alexandra has marked the start of the EFL League Two season by strengthening its relationship with long term supporter KPI Recruiting. And not only has KPI increased its support for the club, they also had some surprise backing for fans in the Gresty Road stand, now sponsored by KPI.
Managing Director and lifelong Alex fan Ryan Jardine, began KPI Recruiting's affiliation with The Alex back in 2010 when the company started using pitchside advertising boards. In 2020, KPI signed a deal to sponsor the scoreboard and the 23/24 season sees the local agency, listed as one of the fastest growing in the UK, sponsoring the Gresty Road stand as well.
The three-year partnership guarantees KPI's branding on the sides of the stand and extends other opportunities to the agency for further branding and job advertising opportunities in the concourses around the ground, at pitchside and online on the Club's various social media platforms.
Surprise gift to fans
To launch the enhanced partnership, KPI provided red & white balloons, free pints and scarves for fans in the new KPI Recruiting stand at the opening game against Mansfield which finished as an entertaining 2-all draw. "We wanted a proper launch for our new stand sponsorship and to help create some additional buzz for the first game," said Ryan.
Club scarves were given to the first fifty supporters under the age of 18, along with a free pint of Carlsberg, Wainwrights or Somersby to the first one hundred adult fans to claim them in the KPI Recruiting stand.
Crewe Alexandra is key to KPI's sales & marketing strategy
Ryan shared his thoughts on the synergy between the club and KPI. "Crewe Alexandra is a key pillar of our marketing strategy. The club is an important gateway to network with local businesses and a brilliant way to achieve some greater above-the-line awareness across the country as a sponsor of a well-loved EFL team. It's also a brilliant way to promote our vacancies across industrial, driving, commercial, engineering, rail, hospitality, education and care sectors to local candidates."
Unfortunately, the free pints and scarves weren't the only surprises for The Alex fans with Mansfield scoring early goals to race into a two-nil lead. However, The Railwaymen rallied, and a spirited fightback saw a remarkable turnaround, with goals from Mickey Demetriou and Rio Adebisi, resulting in an exciting 2-2 draw.
If you're on the look out for a new job, follow us on social media to be the first to know about our latest positions – many of which are not advertised on the open market.