KPI sponsor BeeActive Halloween Spooktacular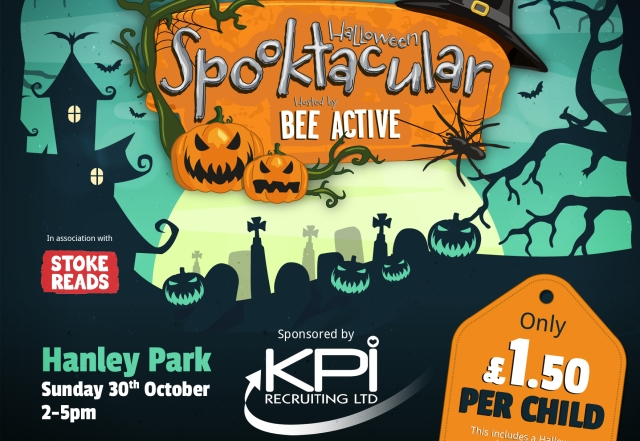 Recruitment Agency KPI are helping BeeActive raise awareness of a special Halloween Event where kids of all ages can get together and take part in fabulous fun events during the half-term holiday. The BeeActive Halloween Spooktacular starts runs from 2pm-5pm on Sunday 30 October at Hanley Park.
BeeActive are inviting kids and their parents to join in the fun at the Halloween Spooktacular by booking there place here and there is also a chance for kids to write their own scary story. The best stories will be included in the treacherous trail round Hanley Park on 30 October. You can enter the competition here with entries closing on Friday 14 October.
Nationally one in five children start school overweight or obese and many parents are now looking for providers to help their children to get off to an active and healthy start in life. BeeActive provide support for children during holidays or before and after school during term time and their innovative approach to physical education provides a huge range of activities that youngsters find fun and engaging. Themes include boot camps, sports days, team building, scooter skills and yoga amongst loads of other activities. BeeActive's team of coaches are passionate about their work and take great pride in being the highlight of the school day for thousands of children across Staffordshire and Cheshire.
BeeActive provide the skills, experience, equipment and knowledge to help children with schemes that meet all the objectives of the National Curriculum for PE, something recognised by KPI Managing Director Ryan Jardine. "As a major employer in the North Staffordshire and South Cheshire, KPI are committed to promoting health and wellbeing in Crewe, Stoke-on-Trent and beyond. We recognise that healthy habits are best formed early in life and that healthy kids have a much better chance of becoming healthy adults. We're delighted to support the incredible work BeeActive do and help them continue to ensure future generations are fit, healthy and happy."
"There's also a significant correlation between keeping healthy and academic results at school," continued Ryan. "Making sure kids are physically active gives them a better chance of achieving great grades, which can significantly improve their earning power later in life."
The Halloween Spooktacular is another event KPI have helped promote after the sponsoring of the 2020 event as part of its ongoing commitment to local health initiatives.