KPI team paint the town red at Colour Rush to help raise money for St Luke's Hospice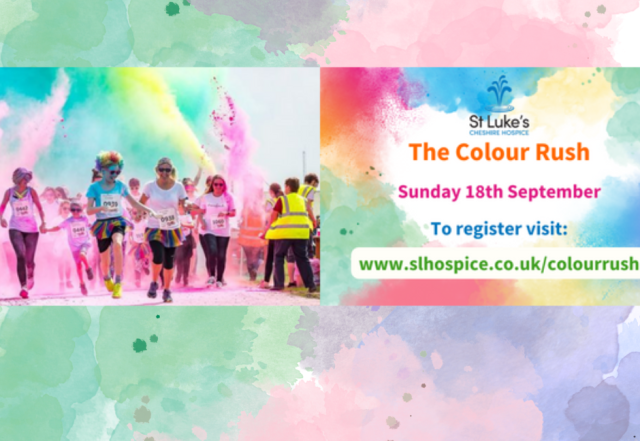 A team from KPI Recruiting joined in the fun at St Luke's Colour Rush on Sunday 18 September in Nantwich which raised much needed funds for adults in South Cheshire who need pain and symptom control, emergency respite, and end of life care.
At this year's Colour Rush, entrants were invited to walk, run, jog or hop the 5k course whilst St Luke's sponsors, KPI (Red) and AO (Green) cover them with coloured powder. KPI Directors Ryan, Estelle and Dan joined at team of 10 from KPI, to help cover contestants in paint powder – although judging by the photos, as much went over the KPI team as it did the runners! KPI joined a team from AO who were in charge of the green station.
The event kicked off at 12.30pm in park land at Dorfold Hall, Chester Road, Nantwich on Sunday lunch time. KPI Operations Director Estelle Raybon said, "It was fantastic to see such an amazing turn out from the KPI team, although we may have got a bit carried away with the task in hand and taken the instruction to "Paint the town red" a bit too literally! In fact, most of the KPI team got covered in more powder than many of the contestants! The main point was that KPI and the other teams, including one from AO, got together with the contestants to make a great day and raise loads of money for St Luke's."
The Colour Rush event was just one of a series of events organised to help St Luke's Hospice raise vital funds so they can continue their amazing work caring for local people. Upcoming events include a day at Michael Owen's Stables, Dress to Impress for Less Fashion Sale, The Ultimate Firewalk and a Christmas Fair. You can find out more about all St Luke's events here, or learn more about creating your own fundraiser here.