KPI v AO Ashes: KPI exact revenge with high-powered run chase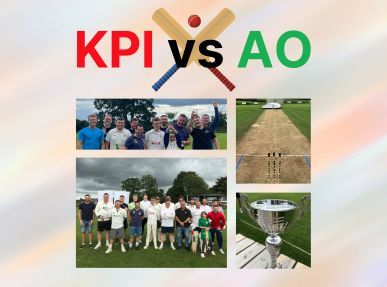 The latest sporting clash between KPI Recruiting and AO saw KPI win a thrilling cricket match with a high-powered run chase to avenge the defeat on penalties in their football match earlier this year. Staff from both companies agreed to change the sport and gathered at Betley Cricket Club on Bank Holiday Monday 28 August to fight out a Twenty20 cricket contest.
The format saw five batting pairs from each side face 4 overs each, with runs being accumulated as normal but a deduction of four runs for each wicket conceded. AO set the pace with an excellent opening partnership from Craig Berrisford and Elsie Jo, before some monster hitting from Jon Gidman, who belted more boundaries than we could count, which resulted in plenty of fence climbing from the fielding side and an early injury to the normally spritely Nick Mooney.
KPI did manage to take some wickets, reducing the AO's score to 98, with Alan Clarke, and Jamie Spears dismissing two batters each and Ryan Holtby taking three wickets with some devilishly fast deliveries. KPI would like to thank Andy Gregory for giving his wicket up so many times!
KPI set off the run chase in sharpish fashion with some big hitting from Ryan Holtby and Tom Roberts supported by some excellent nurdling from Jamie Spears and Stuart Saunders. As wickets fell, Alan Clarke came in to steady the ship with an unbeaten top score of thirty-six to secure the win for KPI.
KPI's On-Site Manager Nick Mooney said, "We're delighted to be on the winning side again. We saw some splendid cricket from both sides, which I was able to watch from the sidelines as I collapsed like a sack of spuds in the third over. Watching Ryan bat was a real Education! Thanks to AO for being such good sports again."